AENOR certifica que la gestión de activos realizada por Aqualia genera valor para todos sus públicos de interés
en_US
25/01/2021
Recognition of the asset management carried out by Aqualia, which generates value for all its stakeholders
OSWS (Oman Sustainable Water Services SAOC) obtains AENOR ISO 55001 certification for asset management. The consortium, formed by Aqualia and the company Majis, manages the water infrastructures of the harbour of Sohar (Oman)
This certification recognises Aqualia's ability to obtain value from its assets through proper risk management and prioritization of investments. The company's management policy results in increased effectiveness and efficiency, a stronger focus on sustainability and an enhanced reputation with its stakeholders
There are only 280 certified asset management entities in the world, and only 59 of these are in the water sector. Aqualia joins the select club of companies concerned with increasing the value of their assets, aligning them with the company's strategic objectives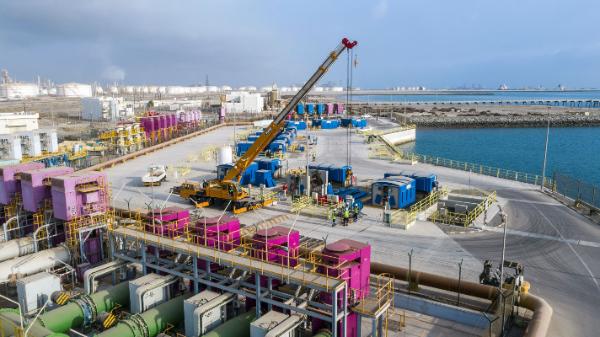 OSWS (Oman Sustainable Water Services SAOC), the consortium formed by Aqualia and the company Majis for the management of the water infrastructure of the harbour of Sohar (Oman), has just obtained the AENOR ISO 55001 asset management certification. This is the first certification that Aqualia has obtained in this area and also the first that AENOR has issued in the field of asset management for a company based in Oman, which, in the words of the certifying organization, "demonstrates the strategic focus on internationalization in the provision of our services".
The certification recognises the company's efforts to obtain value from its assets through proper risk management and investment prioritisation, among other mechanisms. The final result of this management policy is an increase in effectiveness and efficiency, a stronger focus on sustainability and an improved reputation with its stakeholders. As the certifying organization says, "AENOR's rigorous evaluation aims to guarantee to customers, investors and society in general that the management of Aqualia's assets is in the hands of professionals; helping to improve financial performance, investment decisions and the improvement of results and services. It is therefore an external guarantee that the asset management process has followed a structured development and that the actions on the assets themselves generate value for the organisation".
The OSWS Asset Management Strategic Plan has identified more than 3,300 assets. Of these, almost 250 are subject to control, monitoring and continuous improvement as they are categorised as critical assets. The ISO 55001 certification of the Oman contract culminates a process that began in 2019 with the certification of its Quality Management System (ISO 9001), its Health and Safety Management System (OHSAS 18001, in transition to ISO 45001) and its Environmental Management System (ISO 14001).
There are only 280 certified asset management entities in the world, and only 59 of these are in the water sector. Aqualia joins the select club of companies concerned with increasing the value of their assets, aligning them with the company's strategic objectives.