The 20th Salon des Maires showcases sustainable solutions for the future of French municipal services
23/11/2022
The 20th Salon des Maires showcases sustainable solutions for the future of French municipal services
Aqualia's participation in the Exhibition for Mayors and Local Authorities (Salon des Maires et des Collectivités Locales - SMCL) comes at a time of prolonged drought throughout Europe. This is the most important event for municipal service management in France, where the company showcases its most advanced technological solutions for dealing with the climate emergency and demonstrates its commitment to sustainability
Endorsed by the French association of mayors (Association des Maires de France - AMF), this Paris event held on 22–24 November is an essential meeting point for companies, municipalities, associations of communes, and other stakeholders and social actors involved in the French urban ecosystem
In its 20th edition, the event aims to present alternatives to the great challenges of the future, including urban development, energy supply, sustainable transport, efficient water cycle management, ecological transition and social cohesion policies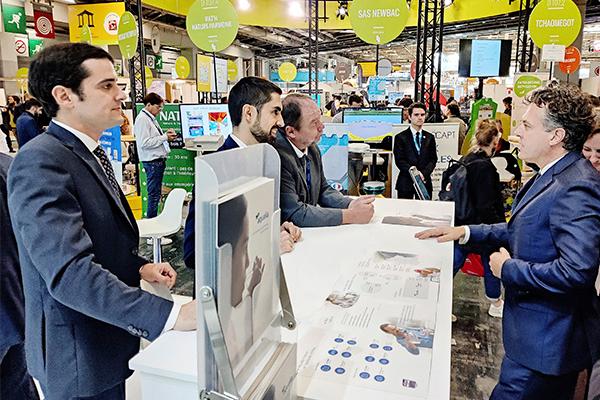 At a time of persistent drought across Europe, the Paris SMCL on 22–24 November has become an essential meeting point for the French municipal service sector. The exhibition is a forum for the most cutting-edge responses to the major challenges of the future, such as urban development, energy supply, sustainable transport, efficient water cycle management, ecological transition and social cohesion and solidarity policies.
Aqualia has been operating in the French water management market since 2019 (when it acquired the companies SEFO and GEG, both operating in the Paris metropolitan area) and wanted to demonstrate at this event that it is already a leading player in the French market through its management of municipal water and sanitation services for 340,000 French citizens.
Aqualia has a 40m2 stand to showcase its most advanced technological solutions for dealing with the climate emergency (wastewater reuse, intelligent network management and digitalisation, etc.) and its firm commitment to sustainability.
In this regard, the company made the most of the exhibition to publicise the French version of its sustainability meter project (#sosteniblómetro). The French website for the initiative is https://durablometre.fr/ . The sustainability meter is a tool not only to gauge how committed citizens and communities are to sustainability but also to raise awareness of daily behavioural habits that respect the environment and are oriented towards sustainable development.