The International Water Association (IWA) recognises Aqualia's innovative contribution in favour of Climate and Sustainability
22/09/2022
The International Water Association (IWA) recognises Aqualia's innovative contribution in favour of Climate and Sustainability
Aqualia has been recognised as one of the 42 "Climate Smart Utilities" by the International Water Association at its world congress, recently held in Copenhagen (Denmark)
The company participated in the official programme of the event through Eva Martínez, Head of Smart Management, Zouhayr Arbib, Head of Sustainability and Patricia Zamora, Project Manager, who took part in different workshops and sessions on the reduction of the carbon footprint, new technologies and climate change and sustainable treatment in small towns
The conference highlighted the contribution of the IntExt project, implemented in Talavera de la Reina (Toledo), which has revolutionised wastewater treatment by bringing advanced treatments to small and medium-sized towns and villages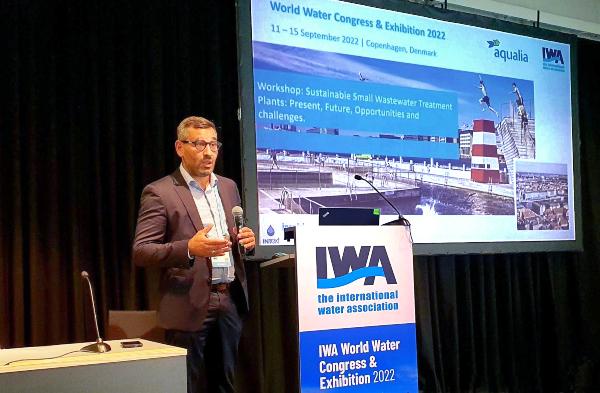 The International Water Association has recognised Aqualia as one of the leading companies in sustainable water management (Climate Smart Utility). This special mention took place within the framework of its world congress, the IWA World Water Congress and Exhibition, recently held in Copenhagen (Denmark).
Specifically, the distinction recognises the contribution of companies linked to the end-to-end water cycle that carry out differential actions for the climate in three pillars: adaptation, mitigation, and leadership.
Eva Martínez, head of the Smart Management area in Aqualia's R&D department, participated in one of the sessions in which the International Association recognised the leading utilities in carbon footprint reduction, held under the title "Towards Climate Smart Utilities". Martínez also took part in the "Road to Net Zero" session, which addressed solutions based on new technologies that can be used to mitigate and alleviate the effects of climate change and achieve sustainability in public water services.

At the same event, Zouhayr Arbib, head of the Sustainability area of Aqualia's R&D department, moderated the workshop "Sustainable Small Wastewater Treatment Plants: Present, Future, Opportunities and Challenges", in which the IntExt project, already implemented at the Talavera de la Reina wastewater treatment plant (Toledo), was presented.
This project represents a revolution in the field of wastewater treatment for small and medium-sized towns, as it proposes flexible and adaptable solutions for different types of wastewaters from different territories. The Life Intext project, led by Aqualia, combines 16 sustainable wastewater treatment technologies to offer "tailor-made" solutions to small and medium-sized urban centres that do not yet adequately treat their urban wastewater.
Arbib also presented a plenary session on the European algae-based wastewater treatment projects (All-gas, Incover, and Sabana), which allow sustainable water reuse without energy costs: "Innovative Wastewater Treatment Based on Microalgae Bacteria Interaction At Large Scale: Simultaneous Nutrients Removal and Pathogen Reduction".
Patricia Zamora, R&D project manager at Aqualia, participated in the workshop "High value products based on carbon in wastewater - How do we select and is it sustainable?" where she presented the Deep Purple Project, and her poster "Low-cost Wastewater Treatment for Small Populations Using Purple Phototrophic Bacteria in Anaerobic Photobioreactors".
Aqualia, among the world leaders in water management
Aqualia is the water management company owned by the citizen services group FCC (51%) and the Australian ethical fund IFM Investors (49%). The company is the fourth largest water company in Europe by population served and the ninth largest in the world, according to the latest Global Water Intelligence ranking (March 2021).
It currently serves 45 million users in 17 countries: Algeria, Saudi Arabia, Colombia, Chile, Ecuador, Egypt, United Arab Emirates, Spain, France, Italy, Mexico, Oman, Portugal, Qatar, Czech Republic, Romania, and Georgia.