07/12/2022
Water digitalisation will deliver greater efficiency and benefits to citizens
Bilbao has recently hosted the IWA Digital Water Summit, the first edition of the international conference concerning digitalisation in the water services sector
With a view to becoming a benchmark in water sector digitalisation, the conference was organised by the International Water Association (IWA) jointly with the Consorcio de Aguas Bilbao Bizkaia and the Spanish Water Supply and Sanitation Association (Asociación Española de Abastecimiento de Agua y Saneamientos - AEAS)
Mª Ángeles Vicente, Aqualia's IT Director, outlined the potential of AqualiaLive at the conference, an intelligent system that unifies the entire end-to-end water cycle management around a single platform with a multitude of interconnected modules for a complete and efficient service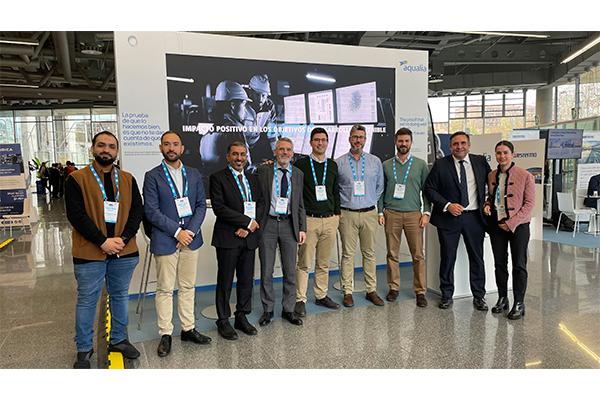 Bilbao hosted the first IWA Digital Water Summit, bringing together over 400 experts from all over the world and set to become a benchmark in water sector digitalisation. The event was held at a time when the effects of climate change are evident and are being felt particularly harshly in terms of rainfall patterns and seasonality. These effects mean that the process of digitalisation of services linked to the end-to-end water cycle has been accelerated in order to contribute, in this way, to achieving greater efficiency and, consequently, a better service for citizens.
Aqualia has maintained an important role in the meeting, both in the technical programme and in the exhibition part, in which it had a stand where it has presented its solutions for digital management. The company was represented by Manuel Sánchez, director of the North office; Enrique Hernández, Aqualia's director of Management Systems and Risks and AGA's managing director; Javier García, director of the Galicia office; and Mª Ángeles Vicente, IT director.
Vicente took part in the opening session "Unlocking the digital potential". She was accompanied by Alejandra Puig, Deputy Assistant Director of Water Protection and Risk Management at the Ministry for Ecological Transition and the Demographic Challenge (MITECO). In her talk, the IT director presented Aqualia's digital end-to-end water cycle management platform, AqualiaLive, an intelligent system that unifies the entire end-to-end water cycle management around a single platform and integrates different interconnected modules. She emphasised how "digitalisation helps us to be more efficient and provide a better service to our customers".
Diego Naranjo, from Aqualia's Operations and Technological Transformation department, participated in the InnoHub sessions and stated that "digitalisation is not a goal in itself, but a way and a tool to help society by managing water efficiently and in a way that is committed to the environment".
Numerous authorities and professionals visited Aqualia's stand and expressed their interest in the company's projects and technological solutions. Some of the more prominent visitors included Alejandra Puig, from MITECO; Vanesa Mateo, Director General for Water of the Principality of Asturias; and representatives of the public utility Majis Industrial Services (Majis) from Oman, etc.
This first conference is organised by the International Water Association (IWA) in cooperation with the Consorcio de Aguas Bilbao Bizkaia and the Spanish Water Supply and Sanitation Association (Asociación Española de Abastecimiento de Agua y Saneamientos - AEAS) in its capacity as the IWA representative in Spain. The IWA is a global network of water professionals operating in 140 countries who promote the sustainable and equitable use of water.
The event organisers announced that Bilbao and Bizkaia (the Basque Country) will be the permanent venue for all conferences and summits on water digitalisation organised by the IWA. The next conference is scheduled for 14–16 November 2023. It will then rotate around two continents (still to be determined) but will return to Bilbao, the capital of Basque Country, in 2026.